Container Yard/ Full Container Load (CY/FCL) transportation:



We specialize in transport of CY from Kaohsiung port to whole Taiwan for customers, and our fleet is direct managed.
Ability to carry multiple types of container:

We have the ability to carry a variety of container types.



General dry container (20feet、40feet、40feet high cube).

ISO tank container.

Reefer container (with/without power supply).

Open-top container.

Flat container.

45feet container.

Diving discharge.

Hazardous cargo (ruled by MOTC).

Toxic cargo (ruled by EPA).
Our staff and equipment are fully in line with government regulations and customer requirements.
High efficiency:



We are able to flexibly match customers' working hour; containers will be arrived on customers' schedule.
High capacity:

We set several transfer stations for our customers, applied hub-and-spoke network to dispatch our fleet, conformed customers' mass demand of loading/unloading cargo operations. The advantage of this method is that it can reduce the load on the vehicles occupying the customer's factories working space. With coordinating the working time of the container yards, we can reduce lose time in transport, and avoid the expenses by demurrage or detention from container yards.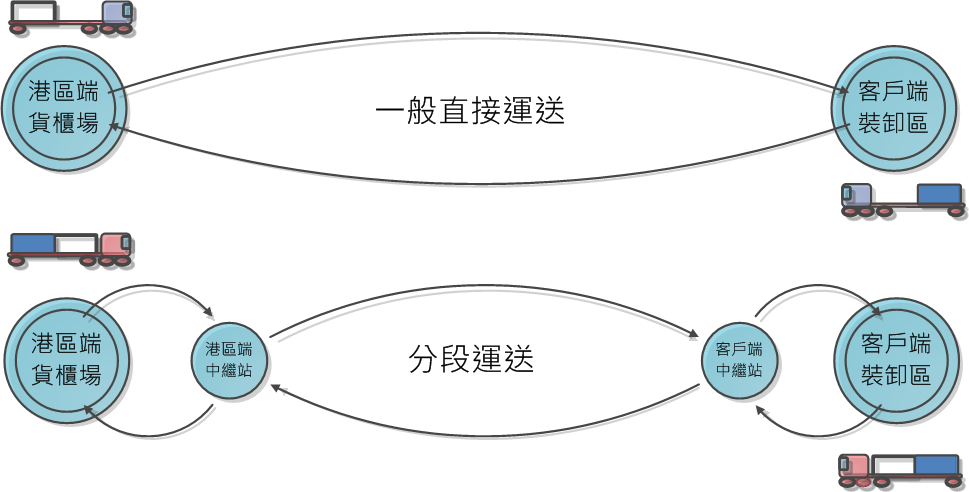 Safety transport:

We have passed the ISO9001 and OHSAS18001 of international certification, as well as a number of customers' quality systems. From the vehicles of protection equipment, inspection, maintenance, trace, control, drivers and vehicles management, accident response, digital video recorder, and drivers' education and training, we comply with the most stringent customers' safety requirements.





Serve types of customers:



Manufacture.
Agents and Traders of import or export.

Freight forwarders.

Customs brokers

Shippers demand CY cartage.